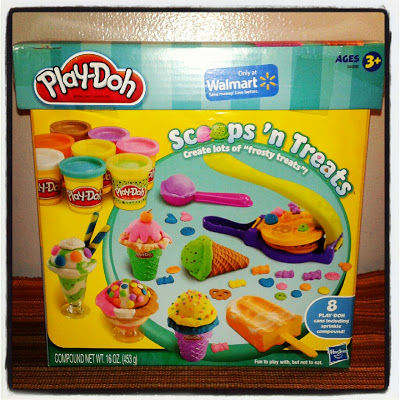 I did it. I bought Toodie her first PLAY-DOH set. I couldn't resist. The kit alone was adorable. You can make your own ice cream cones, popsicles, and milkshakes! I've been putting off introducing her to play-doh for a while now but I feel like it's inevitable since she has started school. After all, how messy could this stuff REALLY be? I might be hitting myself later when it gets stuck in the carpet or up her nose BUT every kid needs to experience it.
When i saw the "Scoops 'N Treats" box while shopping the other night, I knew this would be perfect for Toodie. She loves sweet treats, especially ice cream! It is also age appropriate which I was really happy with. It came with 8 play-doh colors, a waffle cone press, popsicle sticks, ice cream cones, and even sundae dishes. Hard to believe all this was packed in that tiny box! Seems like a really great beginners kit for someone starting off with play-doh. Toodie had a blast! Within minutes she was a "PLAY-DOH PRO" telling me how to scoop the ice cream and create a waffle cone. To my astonishment, she didn't get it on the floor, in her hair, and didn't feed any of it to our dogs!
Toodie was more occupied with the waffle cone press than the actual PLAY-DOH! The kit came with everything you need to make ice cream cones, sundaes, and popsicles. You had the option of making different color ice cream scoops and decorating them with a cherry on top, swirly designs, and even little hearts. Once she saw me making a mini waffle cone she thought it was really a pancake. She took all her play-doh pieces and pressed all of them into small waffles … or "pancakes" as she calls them. Forget the ice cream! It was all about waffles and pancakes.
Before turning the ice cream scoops into waffles we did assemble a few fun popsicles and ice cream creations. The popsicle was a favorite for both of us. She loved pushing the play-doh into the mold and pushing the stick in. All of them came out so cute and miniature! The clean up wasn't too bad and our first attempt at playing with play-doh was successful. If you are just introducing play-doh to your child, I recommend these little kits. It contains everything you need and you can always by additional colors to play with. I found mine at Walmart and from what I saw, they have popcorn maker one too!