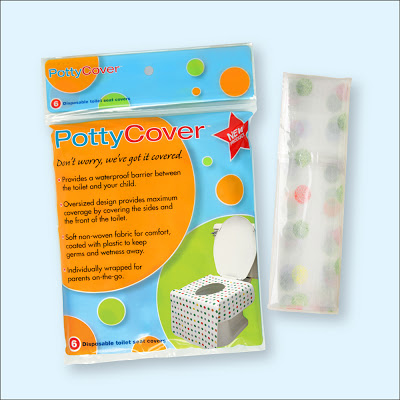 The fun task of potty training. As parents we have all been there or we are currently in the process of potty training our munchkins. With Toodie now completely trained to use the potty for pee-pee she ALWAYS asks to go whether we are at home, a restaurant, the mall, or even the grocery store. She gets so excited and takes her new found independence to a new level! While I am very proud and encouraging that she is so eager to use the potty, we all know that public restrooms are not the cleanest. They don't smell very good, toilet paper is usually covering the floor, and some people are just nasty with their toilet use! I cringe when I have to place Toodie on a public bathroom seat only because of all the microscopic germs lurking around. Once Toodie learned to use the potty on her own we taught her the importance of "building a bridge" with the toilet paper so she would be protected from the seat itself. This technique is usually not very efficient and the toilet paper lands on the floor before i can even plop her down on the seat itself. I was thrilled to try these new Potty Covers because I knew they would be the answer to all of my dirty potty woes.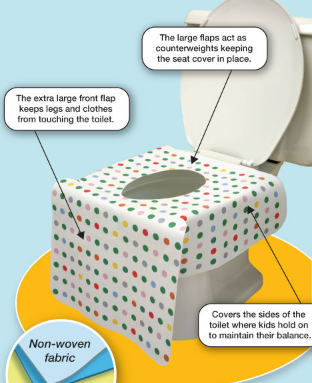 What are Potty Covers?
PottyCover is a disposable toilet seat cover for children that covers the sides and the front of the toilet, to keep away germs at public rest-rooms.  It is made of non-woven fabric coated with a layer of plastic, creating a waterproof barrier between the toilet and the child. This product has the largest coverage of all seat covers on the market and for added convenience, each seat cover is individually packaged in a small, easy to open bag that makes it super easy to always keep one or two in a purse or a back pocket.
Using a public rest-room with a young child could be very stressful, but with PottyCovers the whole family can feel safe knowing that even at the filthiest bathrooms they will be protected from germs. We designed this product for kids, but it has become a must-have travel item for many of our adult customers.
A pack of PottyCover sells for $5.99 and it is available on Amazon, Ebay, all Buy Buy Baby stores around the country and at select Bed Bath & Beyond stores.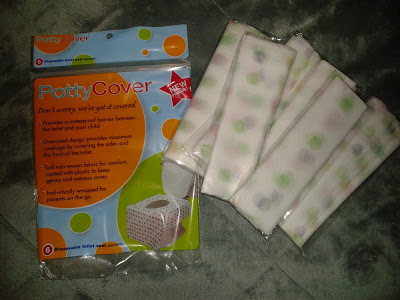 The potty covers are each individually wrapped and packaged making them easy to pack in your diaper bag or purse for each outing. Today was the third time I used the potty cover and I am so thankful I packed a few of these in my purse. Since today was nice and sunny we decided to go the nearby outdoor mall for lunch. As soon as we walked in the door Toodie looked up and said," Mommy I have to go potty."  We headed straight to the restroom and I noticed immediately that the disposable toilet seat cover bin was empty. I pulled out my potty cover packet and proceeded to protect the seat for Toodie. I really like that it covers the whole entire seat, even where your child's legs would dangle. There is no contact with the toilet seat if applied correctly. It saved so much time and was a lot easier than covering the seat with individual pieces of toilet paper. 
You can  find Potty Covers for sale on Amazon, Ebay, all Buy Buy Baby stores around the country and at select Bed Bath & Beyond stores. A pack of PottyCover sells for $5.99. Don't forget to check out PottyCover.com for more information. 
If the potty cover is something you would be interested in you can enter to win your own here!
a Rafflecopter giveaway
 
I received one or more of the products mentioned above for free using Tomoson.com. Regardless, I only recommend products or services I use personally and believe will be good for my readers.