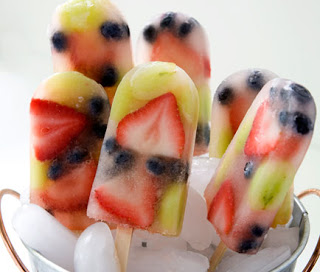 Fruit Punch Pops
1 cup of seedless green grapes

1 cup strawberries finely chopped

1 cup blueberries

1 1/2 cups of Fruit Punch

Popsicle Sticks
Directions: Combine the fruit in a large mixing bowl. Spoon the mixture into 8 popsicle molds. Fill each mold with enough punch to reach the fill line. Add the popsicle stick and place in the freezer. Freeze for at least 4 hours up to overnight, or until the popsicles are frozen solid. Allow the molds to sit at room temperature for 5 minutes or place under warm running water for 10-20 seconds to remove popsicles.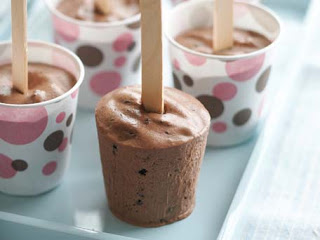 Cookies & Cream Pudding Pops
1 pkg. Jell-O Chocolate Instant Pudding

2 Cups Milk

6 Oreo Cookies

1/2 cup Cool Whip topping
Directions: Beat pudding mix and milk in large bowl with whisk 2 min. Place cookies in resealable plastic bag; seal bag. Use rolling pin to crush cookies. Add cookies and Cool Whip to pudding; stir just until blended. Spoon into 9 (3-oz.) paper or plastic cups. Insert wooden pop stick or plastic spoon into each for handle. Freeze 5 hours or until firm.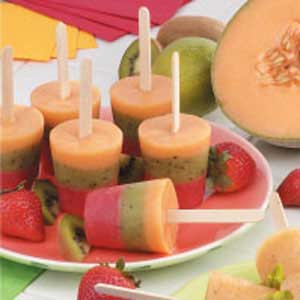 Striped Fruit Pops
3/4 cups of honey

2 cups of sliced strawberries

12 plastic cups or popsicle molds

6 kiwis peeled and diced

12 popsicle sticks

1-1/3 cups of ripe peaches

Directions: In a blender, combine 1/4 cup honey and strawberries; cover and process until blended. Pour into cups or molds. Freeze for 30 minutes or until firm. In a blender, combine 1/4 cup honey and kiwi; cover and process until blended. Pour over frozen strawberry layer; insert Popsicle sticks. Freeze until firm. Repeat with peaches and remaining honey; pour over kiwi layer. Freeze until firm.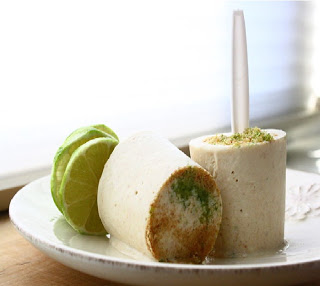 Key Lime Pie Pops
1

cup

crushed graham cracker

1/3

cup

key lime juice

3

key lime zest

3

cups

Greek yogurt

1

tablespoon

vanilla extract

3

tablespoons

honey
Directions: Combine honey, yogurt, zest of 2 limes, lime juice, vanilla extract and 1/2 cup of graham crackers in the bowl of an electric mixer. Beat at medium-high speed until smooth & creamy. Combine zest of 1 lime, 1/2 cup graham crackers, and divide evenly on the bottom of each cup. Pour equal amount of the yogurt mixture into each cup, each about 3/4 full. Insert sticks. Freeze for 2 hours.