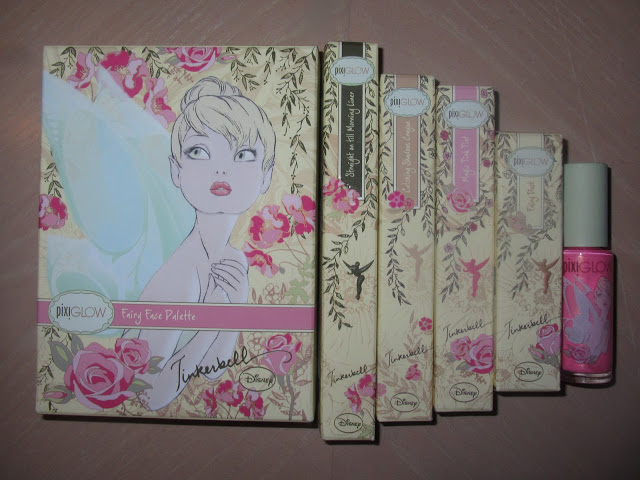 The popular Pixi Beauty Line has recently joined forces with Disney to create the new Pixi Glow collection. This specific line was inspired by that little fairy everyone loves, Tinkerbell. The Pixi Glow products provide you with everything you need to pull of that shimmery, glowing, natural look for the Spring & Summer time. Pixi makeup is all about multi tasking, quick, easy, flawless, and effortless makeup. Does this not sound perfect for busy moms? Let's face it, we don't always have the time to spare when it comes to getting ready and doing what we need to do each day. That's why I love Pixi beauty. They make it simple, even for those who are in a rush or makeup challenged!

Fairy Face Pallete ($
34):
The perfect Spring pallete.
It includes
five beautiful neutral eye colors, 3 blushes, 5 creamy lip glosses
.
It also comes with a mirror, blush, eyeshadow, and lip applicator.My favorite part of this pallete are the lip colors. They are really creamy, moisturizing, and go on smooth. One thing I did notice about them was they don't leave your lips dry and the color doesn't fade immediately. The baked eyeshadow colors are shimmery and sheer. Keep in mind that the color choices provided are for a natural look so they are very subtle. I personally like that the colors are wearable and can be worn everyday. The blush has multiple shades of pink leaving behind a fair amount of color without making you looking like a clown.
Magic Tink Tint ($16): This is one of my favorite products. It reminds me of a chubby crayon for your lips. I have seen a lot of makeup companies come out with the lipstick crayon concept but this one is different. Instead of being a standard color, it only comes in one shade – clear pink. The gel color goes on clear and adjusts to the pH levels of your body. If you have used the Smashbox O-Gloss this is exactly the same but less glossy. It gives you a pretty pink flushed color and comes off very natural.
PixiGlow Nail Colour ($
8):
The perfect pink color for Spring and Summer time! It goes on just as pretty as it looks in the bottle. I only needed to apply two coats to get the desired bright pink shade that is seen in the packaging. It dries with a glossy finish and a hint of gold sparkle.
Catching Shadows Crayon ($
18):
The new Catching Shadows crayon can be used as a base for eyeshadow or even a liner. It is a creamy beige/gold color that blends easily.
It only comes in one color but goes well under most eyeshadow colors being that it is neutral.
Straight On Till Morning Liner ($
14):
If you have ever used any of the eyeliners in the Pixi line then you know they are comparable to Urban Decay's 24/7 Eyeliners. This specific shade offered in the PixiGlow line is a shimmering shade of olive green with a slight hint of gold.
It is creamy, smooth, pigmented, and also waterline friendly.I've been using mine every single day since I opened it!
Moonlight Luster Fairy Dust ($
14):
This is a highlighter product that can be used anywhere on the face to leave behind a luminous glow. The powder is very sheer and can be easily blended on cheeks and eyes. The best use I found for it was to highlight the inner corners of the eyes to brighten them up. This will help you look awake and give you a soft glow.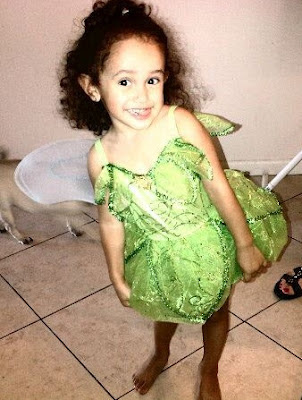 Toodie Tinkerbell!
This giveaway and review of the products i mentioned are in no way sponsored. I decided to give the collection away on my own based on my personal experience after using them and to thank all of my supportive followers! If you would like to enter to win the whole PixiGlow Spring Makeup collection then enter through the rafflecopter form below. This giveaway is for US residents only.