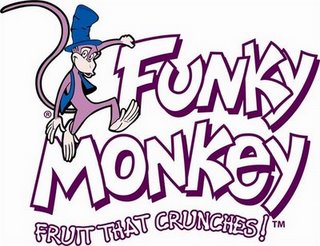 Recently I came across the wonderful world of Funky Monkey snacks! Need a little crunch in your life? If you are fruit lover like my own little munchkin than these may be something you want to check out.Toodie loves these crunchy fruity snacks and has been a very happy girl when she finds them in her lunchbox. If you are looking for a new way to get your daily fruit serving or just a fan of dried fruit snacks then I would highly recommend these. The thing that I like most about these snacks is you can tell they are using full size pieces of fruit. As you can see in the photo below the banana chips are actually a slice of banana. There are no tiny processed pieces, only whole fruit chunks. Sometimes I find myself running out of ideas and am less than thrilled with the snack choices at the grocery store. These are an ideal alternative to the sugary, processed, unhealthy selections that you normally find.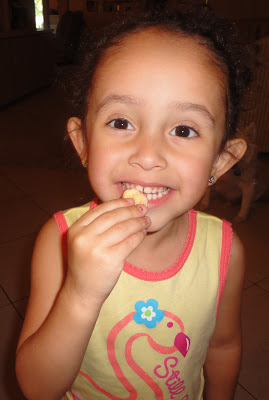 Besides tasting great Funky Monkey Snacks are also gluten-free, wheat-free, dairy-free, peanut and tree nut free, and contain no added sugars, colors, flavors or preservatives. There are three servings of fruit in each ounce so if you have a picky eater these are an easy way to sneak a little in their diet!

Funky Monkey snacks come in seven yummy flavors-
Applemon : Freeze dried apple and organic cinnamon

Bananamon : Freeze dried organic banana and organic cinnamon

Cranaval Mix : Freeze dried organic banana, pineapple, apple, and papaya

JiveALime : Freeze dried organic pineapple and lime juice

MangOJ : Freeze dried mango and orange juice

Pink Pineapple : Freeze dried organic pineapple and guava

Purple Funk : Freeze dried organic banana and organic acai
There are only six flavors pictured because the first flavor we tried was the Pink Pineapple and it was gone within minutes! We couldn't help it, they were that yummy.